Dear Murray Hill Church,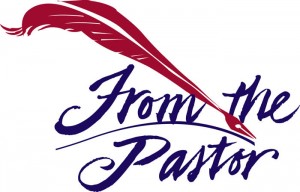 As we enter into November, I am reminded of one of my favorite verses:
"Enter into his gates with thanksgiving, and into his courts with praise: be thankful unto him, and bless his name. For the LORD is good; his mercy is everlasting; and his truth endures throughout all generations." -Ps. 100:4-5
God has been so good to us. We have finished up a full month of ministry and God has provided good weather, good fellowship and fun. God has been merciful so that even in the midst of a storm and lighting strike we have been protected, damage has been minimized, and our trustees are setting allthings right. And God's truth continues as we study the word and look for God's guidance in ourministry.
I pray all of you can reflect and list God's goodness,mercy and truth at work in your lives.
Blessings!
Rev. Haley Eccles
---
Thank you, Murray Hill UMC, for your continued faithfulness! 

LAST MONTH
2018 Budget: $276,324.00
Expenses to Date: $205,829.19
Income to Date: $183,134.28
Thrift Store Earnings YTD: $6,628.00
October Altar Rail (Scouts): $44.00
THIS MONTH:
Altar Rail Monies in November go to the Pastor's Discretionary Fund.
*If you are unable to come to church but would like to give to these special funds, please indicate on the memo of your check and tithing envelope*
---
Online Giving
We are no longer accepting payments through Vanco and have switched over to PayPal. This is a much easier way to set up one-time payments, and recurring giving online. If this is something that interests you, but you are unsure how to open an account, please call Tabytha in the office for some help!
---
Staff Love Offering
The pastor and staff have worked hard for the congregation this year. It has become a tradition to give a monetary gift at Christmas time. We would like to make this a special year with our love offering by showing our appreciation. The contributions will be divided among the staff. If you would like to make a contribution, please mark your gift"love offering" and put it in the offeringplate, or send it to the office between November 4th and December 9th.
---


Thank God that Hurricane Michael did not cause us to have to cancel our meeting. We are so sorry for the loss felt by so many of our fellow Floridians. But here in Jacksonville we had an outstanding meeting! There were 12 songs on our list and we sang 2 verses of every song. We are so thankful that Rheta Voss accompanied us on the piano and for Richard Carroll keeping us on key. We shared stories in between singing; one humorous one about psychedelic hard boiled eggs. Please save the date for our Christmas party: Dec. 13, right here at the church in the Fellowship Hall. Start shopping now for your $5 exchange gift.
Fondly, Gail Carroll
**Next month our program will be a "White Table Ceremony" by Ruth Upson Elementary School SafetyPatrol, introduced by Nancy Beecher. We hope to see you on November 8 @ 10:30 a.m.
---
October Praises From Murray Hill
October Praises
We had a great turn out for Fall Festival, especially in the amount of Volunteers and members who showed up to participate with the community! The church also made $485.00 from the sale of chicken dinners, bake sale items and vendor fees! What a blessing!
We had our Annual Charge Conference with multiple attendees to report and reflect on all the things happening within our church and District! It is a great way to feel connected to the body of Christ through such a large scale event!
We had our Trunk-Or-Treat celebration here in the church parking lot! There were so many cute costumes, and decorations from our volunteers. We are blessed to have so many members who participated to make the children's' evening special!
For the first time, we participated in Murray-Hill-O- Ween which was a fantastic opportunity to fellowship, pray and talk with some of our neighbors whom we had never gotten a chance to speak with.
We had a wonderful afternoon, made possible only by all of you who came out to the Pastor's Appreciation celebration. I am honored to be apart of the Murray Hill UMC family, and excited to see what the next season here will look like.

God is on the move in Murray Hill!
---
November Anniversaries:
11/6 Annon & Beth Bozeman
11/15 Charles & Laura Maner
November Birthdays:
11/3 Glennis McNeil
11/3 Pat McQuigg
11/3 Wendy Blue
11/4 Reba Williams
11/4 Meredith Robinson
11/4 Marvin Hollis
11/5 Ann Andrews
11/9 Naomi Stahl
11/12 Ethel Hall
11/12 Edith Stevenson
11/14 Ruth Glenn
11/17 Dolores Gong
11/24 George Robinson
11/26 Willis Webb
11/26 Pat Robinson
11/27 Marjorie Marvin
11/27 Nancy Madden
Don't see your anniversary or birthday on the list? Call the office and let us know so we can add you to the list!
---


Homebound: Louise Anderson, Anna Hendrix, Sue Page, Margaret Woods, Pat McQuigg, Austin & Dot Browning, Juanita Pascak, Roney Hepler
Military Members: Michael Allen, Calob Jackson, Michael Maner, Thomas & Hollie Parrish, Sergio Aguilar, Jason Burford, Robert Crothers, Chris Liggins, Adam Hemminger
Health & Healing: Webb Family, Don & Mary Presley, Gail Carroll, Sandy Bahret, Stills Family, Adside Family, Hester Family, Mason Jones, Nate & Mary Boles, Tim Carlisle, Pat Freeman, Trish Daniel, Joyce Eatman, Edith Stevenson, Barbara Glover, Delores Gong, Kevin & Keith, David Cosentino, Kanter Family, Price Family, Lucy Wing, Sarah & Ava Farmer, Kifer Family, Barbara Glover, Jackie Samble, Joyce Eatman, Topolski Family
---
On the calendar:
11/1 – 10am – Mary Martha Circle
11/1 – 6:30pm – Lillian Churchwell Circle
11/6 – 7pm – SPRC meeting
11/13 – 7pm – Trustees Meeting
11/15 – 11am – Friendship Lunch
11/20 – 7pm – Finance Meeting
11/26 – UMM Dinner & Meeting
Usher Schedule:
Nov 4: Richard Carroll, Charlie Lechner, Dave & Nancy Madden
Nov 11: Eric Robinson, Rob Meyer, Willis Webb, Beverly Goodell
Nov 18: Dave & Nancy Madden, Willis Webb, Charlie Lechner
Nov 25: Eric Robinson, Richard Carroll, Rob Meyer, Beverly Goodell
Meals on Wheels:
1st Wed.: Thom & Julia May
2nd Wed.: Dave Madden
3rd Wed.: Richard Carroll
4th Wed.: Church & Rheta Voss
5th Wed.: Carroll Stevenson