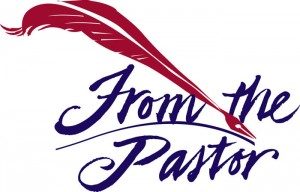 Dear Murray Hill Church,
How wonderful it is to be back with this wonderful worshiping community after maternity leave! Eli surprised us by being nearly on-time with labor beginning just one day after my due date. I wascertain he was going to be late but was glad I didn't have to waitany longer to meet him. After a relatively short labor, my life has been completely changed, and I think I am returning a new and better pastor as a result. Much of the work of maternity leave has been developing a new sense of love and faith.
I certainly have a new love for Eli, but I also have a new love for our God. How wonderful this creator God is who would create such a perfect little boy within me, and how faithful this God is to have helped me to bring him into this world! Yet, labor seemed easy compared with the challenges of caring for Eli since his birth. Itwasn't long until we realized that Eli wasn't getting the food heneeded and nursing was becoming stressful and worrisome quickly. Faith that God would provide for us and guide us has been so important, and honestly, it has taken some time for me to developas Eli's first weeks weren't what I had planned. Rather thanpeaceful moments getting to know each other, Eli and I were immediately on-the-go with daily appointments with doctors, ENT specialists, lactation consultants, and other supports. While grieving the loss of my expectations, God has strengthened and grown meby using the things in this world that aren't perfect and overcomingthem again and again.
It is exactly this that we celebrate in this Easter season. We celebrate a God who can overcome the imperfect of this world. AGod who wants God's creation to be whole and free. Theimperfection of the world leads to difficulty, suffering and death. But our God embraces creation and brings it through death into a new resurrected life. I pray that we would all be reminded of this and that our church would be characterized by a love and a faith our community can see and be transformed by.
Blessings!
Rev. Haley Eccles
---

We have received recognition and appreciation from the children's home regarding our contribution lastyear. The total that MHUMC contributed was $4,653.12! That is quite the accomplishment. We wanted to take the time to thank you all for your generous donations to this extremely important ministry!
---


The April Young at Heart meeting was almost like a homecoming Sunday. We had our own Sarah Lilliard playing the harp and reminiscing about how her musical career began. She told us of her parents William & Leila Perry, Wendell Blue, and how Frank Calhoun was able to repair her harp, which is the one she still plays from 1915. We missed a few of our regular members, but welcomed several members back who had been absent for a while. We even had a new face! Be sure to come out May 10, tosee Barbara Langston's Antique Roadshow. You may bring 2 items ONLY for evaluation. ONLY 2. If you bring a guest, they are only to bring 2 items as well. Along with your items forevaluation, don't forget your favorite dish to share with thegroup! Hope to see you next month!
Blessings & Take Care,
Gail Carroll
---
VBS 2018
We are thrilled to announce that planning and purchasing has begun for another season of VBS! We already have 26 kids signed up, and expect around 40 participants total! If you are wondering how you can contribute to this amazing event for the children, here are some practical ways to help!
Participant T-shirts: $2.00 each x 45 shirts = $90.00
Yard signs for College Street & Edgewood Ave. 8 signs @ $8.00 each = $64.00
Facebook Advertising $30/week x 5 weeks = $150.00
Snacks/drinks/food items – Donations of cookies chips, lemonade / fruit punch mix etc.
Volunteer your time – with an expected 40 

participants (and dinner served) we will need all the help we can get! Sign up sheets are on the bulletin board!
We need your help to make this rewarding time with our local kids a success and there are so many ways that you can contribute to the lives of these little ones! Please prayerfully consider how you might like to helpmake this week long event, successful for God's glory,and the Murray Hill community!
---
May Anniversaries:
5/21 – Larry and Jane Dixon
May Birthdays:
5/20 – Lesley Tzan
5/21 – Julia May
5/26 – Barbara DeLander
5/27 – Rob Meyer
5/31 – Alyce Snead
Don't see your anniversary or birthday on the list? Call the office and let us know so we can add you to the list!
---


Homebound—Louise Anderson, Anna Hendrix, Sue Page, Margaret Woods, Pat McQuigg, Austin & Dot Browning
Those Serving in the Military: Michael Allen, Calob Jackson, Michael Maner, Thomas Parrish, Sergio Aguilar, Jason Burford, Robert Crothers, Chris Liggins, Adam Hemminger, Hollie Parrish
Health, Healing & Life—Art Cape, David Cosentino, Edith Dunn, Pat Freeman, Mark D. Hedges, Roney Hepler, Bella Hudson, Kanter Family, Hank Knox, Joe McVey, Juanita Pascak, Pat Thornton, Lucy Wing, Robert & Beverly Price, Adside Family, Stills Family, Delores Gong, Clayton Family, Joy Lane, Dexter Sandi, Pat Robinson, Sandy Bahret, Maude Cuffe, Tim Carlisle, Jackie Samble, Peter Hampton, Bolder Family, Chuck Voss, Martha Stevenson, Nate & Mary Boles, Ann Andrews, Mary Presley, Hester Family, Webb Family, Robert Campbell, Majel Garberson, Phaedra Harris-Smith
** PLEASE NOTE **
The prayer request list "Health, Healing & Life" will reset everymonth. If you have a continual prayer request, please indicate so on your attendance sheet during Sunday service, or contact Tabytha in the office 387-4406.
---
On the calendar:
5/1 – 7pm – SPRC meeting
5/3 – 10am – Mary Martha Ladies Circle
5/3 – 6:30pm – Lilian Churchill Ladies Circle
5/8 – 7pm – Trustees Meeting
5/15 – 7pm – Finance Meeting
5/17 – 11am – Friendship Lunch
5/28 – 6:30pm – UMM Dinner & Meeting
Usher Schedule:
May 6: Eric Robinson, Shelby Stevenson, Dave & Nancy Madden
May 13: Richard Carroll, Nikki Brown, Rob Meyer, Beverly Goodell
May 20: Dave & Nancy Madden, Charlie Lechner, Shelby Stevenson
May 27: Beverly Goodell, Willis Webb, Rob Meyer, Nikki Brown
Meals on Wheels:
1st Wed.: Thom & Julia May
2nd Wed.: Dave Madden
3rd Wed.: Richard Carroll
4th Wed.: Church & Rheta Voss
5th Wed.: Carroll Stevenson
---