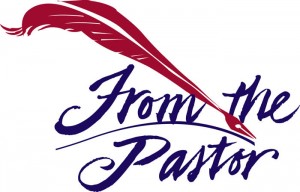 Dear Murray Hill Church,
It's hard to believe we are already in July. Time moves so fast, and that's becoming especiallyapparent to me as I watch Eli changing everyday. This month is so special as it begins with Eli's baptism. This sacrament seals something that Kris and I have known from day one, God's grace is already working in his life. However, his baptism also asks a serious question of us. This ritual calls on all of us as church members to raise him to know this grace and acknowledge God in his life. We are being asked to proclaim the gospel, to model Christian love and forgiveness, to equip him to serve the church, and learn to follow and trust God. It's helpful for me to remember that while I take on this role in Eli's baptism, I am also renewing this role to anyone who is apart of our church. There is a call we receive from baptism to do the work of this church outlined in the words we say in baptism. July is a great time for us to renew this call as we often take time in the summer to renew and refresh ourselves through vacations, time with family and other activities. I pray for each of us, as we spend so much time in water in the summer time, that we would remember the baptismal waters and who we are in Christ.
Blessings!
Rev. Haley Eccles
---
Thank you, Murray Hill UMC, for your continued faithfulness! 

LAST MONTH
2018 Budget: $276,324.00 Expenses to Date: $128,511.07
Income to Date: $115,619.90
Thrift Store Earnings YTD: $3,806.00
June Altar Rail (UMCOR): $117.00
Father's Day Dedications (Scouts): $299.00
THIS MONTH:
Altar Rail Monies go to the Good Samaritan Fund
*If you are unable to come to church but would like to give to these special funds, please indicate on the memo of your check and tithing envelope*
---

We are excited to share that we now have online tithing options!
To get started, download the GivePlusChurch app for free from the App Store onto your mobile phone. Then, search Murray Hill United Methodist Church, which should bring up our church address. You can then easily make donations to a number of funds using your debit card or your checking/savings account.
If you prefer, you can sign up and create an account at vancopayments.com. If you need help with either one of these 2 options, please call Tabytha in the office!
---


As I sit here today it is hard for me to believe that we are ending the first 6 months of the year. Time flies when you are having fun. Missed a lot of people and hope to see you in July. You missed a great visit from Captain Butler, a therapy dog who came with Rebekah Harp, who showed us how she uses her dogs in the classroom. It is amazing how children, different needs and ages respond to learning with the presence of dogs. Rebekah obviously loves her job and her animals. On July 12 @ 10:30 am Richard Carroll will present a patriotic program and we willbe having our "in house" July picnic. Bring your smiling face and favorite dish!
Blessings & Take Care,
Marjorie Marvin
---
It was another amazing year for VBS 2018! On the very first day we saw 36 participants, 18 volunteers and 5 parents for a total of 59 in fellowship in the name of Jesus!
We had story time, arts & crafts, science projects, as well as music, and dinner served to every single person involved! There was an incredible amount of planning, preparation and participation to make such a large event the success that it was.
There were so many glory sightings, ranging from volunteers being flexible to fit whatever position needed to be filled, to kids as young as 5 years old memorizing bible verses, sign language, and 5 messages from the New Testament. We also had the opportunity to share each message and story with our DLC children each morning! It was incredible to see so many children remember the teachings of Jesus each day.
We, as a church, thank God for the people who donated their time, talents, and treasure. We thank each one of you who gave to VBS in so many ways as well. It literally would not happen without each and every one of you!
---
June Praises From Murray Hill
Day 1 of VBS – 44 children, 18 volunteers and 5 parents showed up to learn about Jesus and to fellowship in His name!
Bubba Burgers donated 43 pounds of hamburgers for VBS and whatever is left, for Kaleidoscope! This donation is one of many that we have received from Sunday School classes and individual members that have been invaluable to the success of VBS this year.
June brought 3 new members to the church, 2 through a profession of faith in Confirmation, and 1 through transfer! 2 members also transferred into MHUMC in January, for a yearly total of 5 new members!
Our new walk-way awning has been installed!
Pastor Haley and our Lay Leader Lise McKenney attended Annual Conference of the FLUMC and reported a wonderful time of learning, worship and hope for the future.
---
We are so excited to have another baby on the way for our church staff. Baby Asa is due to Tabytha and Mike in September and we have to celebrate! We will be having a shower after our morning service on July 22 in the fellowship hall. If you would like to help get the Hill family ready, Tabytha is registered at Walmart and Target. Other needs include diapers (you can never have too many of these) or a contribution to help her utilize a doula to aid in carrying out her birth plan. I know most importantly Tabytha just wants to celebrate this little miracle's arrival, so please come and join in the fun!
---
July Anniversaries:
7/22 – James & Ruth Glenn
7/24 – Charlie & Kathy Lechner
7/31 – Thom & Julia May
July Birthdays:
7/1 – Robert Covert
7/13 – Mary Magill
7/14 – Juanita Pascak
7/16 – James Arnett
7/17 – Dot Browning
7/21 – Annon Bozeman
7/22 – Eric Robinson
7/25 – Thom May
7/25 – Corbin Zilla
7/26 – Sam Tyler
7/27 – Janice Covert
7/27 – Carroll Stevenson
Don't see your anniversary or birthday on the list? Call the office and let us know so we can add you to the list!
---


Homebound: Louise Anderson, Anna Hendrix, Sue Page, Margaret Woods, Pat McQuigg, Austin & Dot Browning, Juanita Pascak, Roney Hepler
Military Members: Michael Allen, Calob Jackson, Michael Maner, Thomas & Hollie Parrish, Sergio Aguilar, Jason Burford, Robert Crothers, Chris Liggins, Adam Hemminger
Health & Healing: Webb Family, Mary & Don Presley, Gail Carroll, Sandy Bahret, Sills Family, Adside Family, Hester Family, Mason Jones, Nate & Mary Boles, Tim Carlisle, Pat Freeman, Trish Daniel, Joyce Eatman, Edith Stevenson, Barbara Glover, Delores Gong, Kevin & Keith, Mason Jones, Gail Carroll, David Cosentino, Kanter Family, Price Family, Lucy Wing, Mary Boles, Sarah & Ava Farmer, Kifer Family, Barbara Glover, Kelly Kanter, Jackie Samble, Estelle Shelton
** PLEASE NOTE **
The prayer request list "Health, Healing & Life" will reset every month. If you have a continual prayer request, please indicate so on your attendance sheet during Sunday service, or contact Tabytha in the office 387-4406.
---
SAVE THE DATE:
October 20, 2018 – 9:00 AM to 12:00 PM
Cross Road Church UMC
Murray Hill UMC leaders who attended last year indicated this was a wonderful time of worship and connection. Come with us and help us represent the work God is doing at MHUMC!
---
On the calendar:
7/3 – 7pm – SPRC meeting
7/10 – 7pm – Trustees Meeting
7/12 – 11am – Friendship Lunch
7/15 – 12pm – Finance Budget Meeting
7/17 – 7pm – Finance Meeting
7/23 – 6:30pm – UMM Dinner & Meeting
7/28 – Youth – Lake House Excursion
**No Circle meetings this month.
Usher Schedule:
July 1: Charlie Lechner, Dave & Nancy Madden, Richard Carroll
July 8: Eric Robinson, Beverly Goodell, Shelby Stevenson, Willis Webb
July 15: Dave & Nancy Madden, Rob Meyer, Nikki Brown
July 22:Charlie Lechner, Eric Robinson, Rob Meyer, Willis Webb
July 29: Bev Goodell, Nikki Brown, Shelby Stevenson, Richard Carroll
Meals on Wheels:
1st Wed.: Thom & Julia May
2nd Wed.: Dave Madden
3rd Wed.: Richard Carroll
4th Wed.: Church & Rheta Voss
5th Wed.: Carroll Stevenson