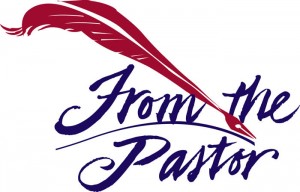 Dear Murray Hill Church,


Happy New Year!

It seems that sometime in the fall we find ourselves on a steep slope through the holidays and into a New Year. Time passes so quickly, and we find ourselves looking back as we look forward into 2019. It becomes a time to count our blessings, assess our progress, face our shortcomings, and to invite growth in the coming year. It becomes a time to set goals and resolutions.

For the most part, I don't set resolutions, as I've been jaded by how quickly I can abandon the lofty goals I set for myself. However, every year I set reading goals for myself. I try to grow to read more books than the year before or find more variety in what I read or seek to read as much for learning as I do for pleasure. 

This year, I am committing to read through the Bible chronologically over the year. I also find that taking on goals publicly allows for accountability, so I plan to read daily through Instagram live. You can take the challenge with me by reading on your own time or listening to my narration by following me @revhaleygrace. Regardless, I am looking to 2019 to be a year filled with grace and growth in myself and in our church and community. 
Blessings!
Rev. Haley Eccles
---

Thank you, Murray Hill UMC, for your continued faithfulness!
LAST MONTH
LAST MONTH
2018 Budget: $276,324.00
Year End Expenses : $ 239,135.91
Year End Income : $ 221,868.03*
* At the time of printing*

Thrift Store Earnings YTD: $ 8,193.00
December Altar Rail (UMCOR): $40.00
---
Online Giving
We are accepting tithes and donations through PayPal. If you are interested:
1. Go to www.paypal.com
2. Setup a personal account
3. Search for MHUMC by our email which is a. murrayhillumc@gmail.com
4. Enter in payment information OR
We are also on Venmo – find us by searching Murray Hill UMC! (this can be downloaded as an app on your phone)
OR
Click Donate Now on the Murray Hill UMC Facebook page and you will be directed straight to PayPal as well!
---


The feeling of Christmas abound as 55+ members and friends of Young at Heart came together for our Christmas party.  We had many wonderful foods prepared by Jane and Larry Dixon.  Thank you Dixons! Steve Chapman had all singing some the favorites of the Christmas season.  George Robinson recognized Art Cape and Marvin Hollis for their long dedication and service to Young at Heart.  Art-3 years and Marvin-8 years and still going.  Thanks guys you are truly loved and appreciated.  Jim Harp thank  you for just being you and giving us so many wonderful devotionals and inspiring stories.  Well the next meeting, Jan. 10, 2019 at the regular time, we'll have as the program Kimberly Weir, Exec. Director of the FL Christian Center  I know what is coming in Feb too but that has to wait.  Look forward to seeing all.  HAPPY NEW YEAR
-Marjorie Marvin
---

Jan 6th – Jan 7th Youth Lock In and New Years Bash! 6th grade – 12th grade
Pajamas…..bowling…..movie…..games….food!!
Jan 19th – Citywide Worship Night @ Murray Hill Theater All Ages – Free Event! 6:30pm – 10:30pm
Jan 20th – MLK Event (more info to follow) January Lessons – We will focus on Community!
---
Poinsettia & Mission Wreath
The total collected from the Mission Wreath was – $1946.00. That means that both the Florida United Methodist Children'sHome and DLC Nurse & Learn will each receive $973.00. This will make a huge impact for both of these ministries, as they continue to provide vital services to children in need.
The Poinsettias which were left over after Christmas were paid for by the Joy Team and have been taken to our homebound and shut-ins by the staff!
---
Ecumenical Vespers
The 6th Northeast Florida Ecumenical Vesper Service will take place at Southside UMC, Jacksonville. Bishop Kenneth H. Carter, Jr. of the Florida Conference will preside. Rev. Jay Therrell, North East Superintendent, will be the master of ceremony.
Service Time January 24, 2019 @ 6pm
---
VBS Volunteer Meeting
The VBS Volunteer Meeting will take place January 17th from 6:30 – 8:00 pm in the Fellowship Hall. We would love to see you there!
---
January Anniversaries:
None
January Birthdays:
1/7 Richard Carroll
1/14 Beverly Goodell
1/15 Austin Browning
1/15 Radonna Tyler
1/18 Mathew Williamson
1/28 Harold Voss
Don't see your anniversary or birthday on the list? Call the office and let us know so we can add you to the list!
---


Homebound
Louise Anderson, The Browning's, Anna Hendrix, RoneyHepler, Pat McQuigg, Sue Page, Juanita Pascak, Edith Stevenson, Margaret Woods
Military Members
Sergio Aguilar, Michael Allen, Jason Burford, Robert Crothers, Adam Hemminger, Calob Jackson, Chris Liggins, Michael Maner, Hollie Parris, Thomas Parrish
Healing & Life
Adside, Stills & Hester Families, The Presley's, Gail Carroll, Sandy Bahret, Pat Freeman, Joyce Eatman, The Voss's,Kanter & Price Family, Jackie Samble, Topolski Family, Tim Carlisle, Trish Daniel, Barbara Glover, Mason Jones, MaryBoles, David Cosentino, The Webb's, Dolores Gong,Wanda Braddock, Lucy Wing, Megan Wilson, Pat Robinson, Susan Brock
*Please Re-Submit Requests For An Updated List* Thanks!
---
On the calendar:
1/3 – 10am – Mary Martha Circle
1/3 – 6:30pm – Lillian Churchwell Circle
1/17 – 11am – Friendship Lunch
1/21 – Happy MLK day
1/24 – 6pm – Ecumenical Vespers at Southside UMC lead by Bishop Carter
1/28 – 6:30pm – UMM
**COMMITTEE MEETINGS
Pending Charge Conference approval, we are moving toward a single committee meeting where Finance, Trustees and SPRC can meet together once a month. We will have updates on this as they become available.
Usher Schedule:
Jan 6: Eric Robinson, Charlie Lechner Dave & Nancy Madden
Jan 13: Willis Webb, Richard Carroll, Rob Meyer, Beverly Goodell
Jan 20: Eric Robinson, Beverly Goodell, Dave & Nancy Madden
Jan 27: Richard Carroll, Willis Webb, Eric Robinson, Charlie Lechner
Meals on Wheels:
1st Wed.: Thom & Julia May
2nd Wed.: Dave Madden
3rd Wed.: Richard Carroll
4th Wed.: Chuck & Rheta Voss
5th Wed.: Carroll Stevenson