Dear Murray Hill Church,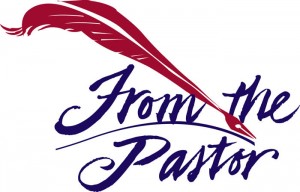 I still love looking at the nativity set we had in our house growing up. I don't think I am the only kid who played with this set like I would have a doll house, creating conversations between Mary and Joseph, the animals, the shepherds, and the delicate angel that hung at the peak of the manger. I especially loved the small ceramic baby that I could pick up from his toy bed of straw to hold him, rock him and sing to him.
It has been years since I have been able to so carefully consider these figures I put out every year. As an adult, the pressures of creating a great Christmas for my family and now my church family have turned my set into an item on my to do list. So this year, instead of placing out the set all at once, I will be adding a character or two each week as we encounter them in our sermon series. We will consider Mary, Joseph, the animals, the angels, the shepherds and of course Jesus. Our series will end on epiphany when the wise men come to meet God's son.
The challenge to experience stillness and wait as children do throughout the season is difficult, but I hope you will set aside the worries of the season for an hour and just hold onto the stories of Christmas. May we meet Christ anew this season!
Blessings!
Rev. Haley Eccles
---
Thank you, Murray Hill UMC, for your continued faithfulness! 

LAST MONTH
2018 Budget: $276,324.00
Expenses to Date: $222,146.62
Income to Date: $204,150.28
Thrift Store Earnings YTD: $ 7397.00
November Altar Rail (Pastors Discretionary): $ 22.00
---
Online Giving
We are no longer accepting payments through Vanco and have switched over to PayPal. This is a much easier way to set up one-time payments, and recurring giving online. If this is something that interests you, but you are unsure how to open an account, please call Tabytha in the office for some help!
---
Staff Love Offering
The pastor and staff have worked hard for the congregation this year. It has become a tradition to give a monetary gift at Christmas time. We would like to make this a special year with our love offering by showing our appreciation. The contributions will be divided among the staff. If you would like to make a contribution, please mark your gift"love offering" and put it in the offeringplate, or send it to the office between November 4th and December 9th.
---


As we near the end of another year we have SO MUCH to be thankful for, look about, its there! You missed out on the program presented by some of the members of the School Safety Patrol of the Ruth N Upson Elementary School. Great Kids! I must really be ancient as Miss Upson was a very young "straight laced" lady who kept order by clapping hands and raising right hand as giving Boy Scout sign. You could hear a pin drop, she was a very respected principle. Well, where were you Nov 8? Missed you!!! Well be having our Christmas party this year, December 13th @at MHUMC Fellowship Hall, the Dixon's are catering. If you have not yet paid, please send $12.00 to Sandy Bahret (cash or check). Don't forget to bring a gift to exchange, $5.00 limit!!! Look forward to seeing ALL!
-Marjorie Marvin
---

12/15 Cookies & Caroling – meet at MHUMC at 6pm  to   carol around the neighborhood – everyone is   welcome to join! Afterwards we will have   cookies & hot cocoa in the Fellowship Hall
12/16 Kids Christmas Party – 2-4pm pre-K – 4th
12/16 Gift Wrapping Fundraiser – 9 am – 2 pm: bring   your presents for the kids & youth to wrap,   donations accepted to fund children & youth   activities & excursions!
12/23 Youth "Ugly Sweater" Christmas party: crazy   games, lots of food, ugly sweater contest 5-8   pm, grades 5th– 12th
---
Advent Series
"Living The Nativity"
Meeting The Characters in Our Nativity Scene
Nov. 25 – 1stSunday of Advent – Mary
10:30 am Traditional Service
5 pm Advent Wreath Making
Dec. 2 – 2ndSunday of Advent – Joseph
10:30 am Traditional Service
6:15 pm Supper & Contemporary Service
Dec. 9 – 3rdSunday of Advent – The Animals
10:30 am Traditional Service
6:15 pm Supper & Contemporary Service
Dec. 16 – Silent Night! Holy Night! Christmas Cantata
10:30 am Cantata Service
NO EVENING SERVICE
Dec. 23 – 4thSunday of Advent – The Shepherds
10:30 am Traditional & Contemporary Combined
NO EVENING SERVICE
Dec. 24th
Christmas Eve Candlelight Service – 6 pm
**Transportation Available**
Call the office 387-4406
Dec. 30th
1st Worship Breakfast – 10:30 am
A special time for prayer and fellowship.
---
December Anniversaries:
12/4 Eric & Meredith Robinson
12/22 Larry & Beverly Goodell
12/31 Charles & Rheta Voss
December Birthdays:
12/4 Tiffany Dixon
12/6 Mary Swearingen
12/6 Beth Bozeman
12/7 Gloria Larsen
12/11 Stephen Singletary
12/14 Linda Edmonds
12/18 Colette Harris
12/18 MarjeanWindhaus
12/19 Gail Carroll
12/20 Margaret Woods
12/23 Adam Turley
12/23 Elizabeth Hudson
12/25 Margaret Moore
12/31 Joyce Eatman
Don't see your anniversary or birthday on the list? Call the office and let us know so we can add you to the list!
---


Homebound: Louise Anderson, The Browning's, Anna Hendrix, Roney Hepler, Pat McQuigg, Sue Page, Juanita Pascak, Edith Stevenson, Margaret Woods
Military Members: Sergio Aguilar, Michael Allen, Jason Burford, Robert Crothers, Adam Hemminger, Calob Jackson, Chris Liggins, Michael Maner, Hollie Parris, Thomas Parrish
Healing & Life: Adside, Stills & Hester Families, The Presley's, Gail Carroll, Sandy Bahret, Pat Freeman, Joyce Eatman, The Voss's, Kanter & Price Family, Jackie Samble, Topolski Family, Tim Carlisle, Trish Daniel, Barbara Glover, Mason Jones, Mary Boles, David Cosentino, The Webb's, Dolores Gong, Wanda Braddock
*Please Re-Submit Requests For An Updated List* Thanks!
---
On the calendar:
12/4 – 7pm – SPRC meeting
12/6 – 10am – Mary Martha Circle
12/6 – 6:30pm – Lillian Churchwell Circle
12/11 – 7pm – Trustees Meeting
12/15 – 6pm – Cookies & Caroling
12/16 – 9am-2pm – Children and Youth Giftwrap Fundraiser
12/16 – 2pm – Children Christmas Party
12/18 – 7pm – Finance Meeting
12/20 – 11am – Friendship Lunch
12/23 – 5pm – Youth Christmas Party
No UMM This Month.
Usher Schedule:
Dec 2: Charlie Lechner, Willis Webb, Richard Carroll, Rob Meyer
Dec 9: Beverly Goodell, Eric Robinson, Dave & Nancy Madden
Dec 16: Charlie Lechner, Richard Carroll, Rob Meyer, Willis Webb
Dec 23:Eric Robinson, Beverly Goodell, Rob Meyer, Richard Carroll
Dec 30: Willis Webb, Charlie Lechner, Dave & Nancy Madden
Meals on Wheels:
1st Wed.: Thom & Julia May
2nd Wed.: Dave Madden
3rd Wed.: Richard Carroll
4th Wed.: Chuck & Rheta Voss
5th Wed.: Carroll Stevenson