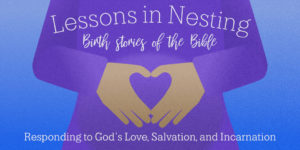 This Sunday, November 26, we are beginning our new Advent series, "Lessons in Nesting." I am very excited about highlighting the stories of mommy's-to-be during this season. As Kris and I have been preparing to welcome our child into the world, I have learned a new type of waiting… nesting. Pregnant women prepare their homes and their bodies for a new life to come. Not only can we consider how Mary may have waited for the arrival of Jesus, the church waits for Christ's return, and the waiting of nesting women can teach us something about what it means to wait. We will consider the birth stories of Sarah, Jochebed, Hannah, Elizabeth and Mary.
Disclaimer: Pregnancy is a difficult road for some and one others choose not to take. This series is not to place pregnant women on pedestals as women blessed above women who cannot or choose not to have children. Rather, the series is meant to look at the experience of pregnant women in the Bible and learn from their experiences as one way we might encounter the experience of waiting. Certainly, there are many other experiences that serve as helpful metaphors and the church needs the voices of all to share their stories of waiting and expectation to capture what it means to wait for God's kingdom. 
If you are interested in learning more outside of our series, a helpful book for me as I have considered my own journey to motherhood and the journey our Church takes in waiting for the kingdom is Sarah Jobe's Creating with God. It captures all of the joys, sorrows, and messiness of pregnancy and makes some beautiful connections to the Christian life and Jesus himself.
We will also have two special services during the season on December 17. Our Christmas Cantata will be at 10:30a, led by our Chancel Choir.
We will also have a Blue Christmas service at 4pm. This is a special service of lament if for those during the season who are struggling to find joy while they process the grief of being without loved ones, poor health, infertility, lack of work, and other hardships. Having a space where we can be together and name these struggles is important in a season that recognizes that while we await the coming kingdom, it isn't yet here, and these struggles serve as evidence of that.
I hope that you will join us to celebrate this season. Blessings!
Pastor Haley